The largest piece of furniture in any bedroom is the bed. So why not take advantage of it and the wall behind it to create a focal point that is not so ordinary, think of it as an opportunity to make a statement.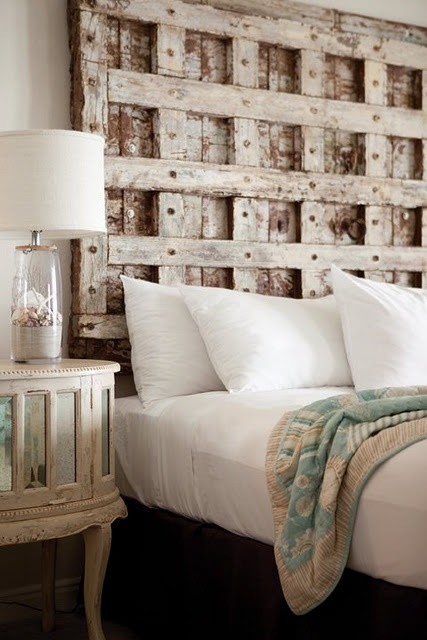 Use your imagination and think outside the box, look around for the unusual. A good place to start is an estate or garage sale, or a local flee market. Keep your eyes open, and remember you don't need a large item like a door or screen to create a headboard, how about a collection of smaller items?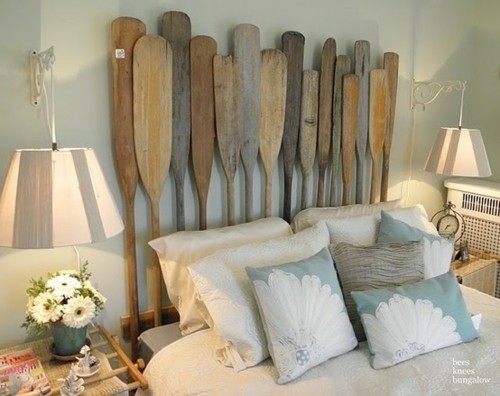 On this headboard the collection of oars is creative, whimsical and relates to the nautical theme of this beach front home.
Upholster headboards can be designed and built into any size and dimension it all depends on your imagination, find something that inspires you. Maybe a great fabric, or better yet, make the best out of an awkward wall.  You can incorporate lighting and decorative elements like, nailheads, ribbon and trim.
Simple construction materials can also be used for creating and decorating the wall behind the bed, maybe you don't need a "headboard". Try some simple stock molding to add architectural detail to the wall behind the bed, add texture, color, pattern and design with wall paper installed just on that wall. Lighting the area is also important and is another opportunity to get creative.

You can design a beautiful headboard with some paint and wall decals, like the image above. Love the chandelier!

The headboard above is made from simple construction lumber that has been nailed together and stained.  Reclaimed lumber is also a great  material to use to make a headboard like this.
When designing your bed take into consideration the other elements in your bedroom like the drapes and wall finish, the architectural features in the room. Does your room have an interesting arch, or tray ceiling or great moldings?

This headboard defiantly makes a statement.  The bold geometric fabric, the black and white contrast and grand scale of the headboard pushes the envelope. Although it might not be for everyone it is certainly very creative.
Have you created a dreamy headboard you'd like to share?  or have you been looking for a new one, we would love to hear from you.  
You can find beautiful decorative pillows, wall decor, area rugs and home accents  to decorate your bedroom with at Carmel Decor.

by Firoozeh Khorrami
Carmel Decor
You can find these images plus more on our Pinterest page here.
Follow us on Twitter
Follow us on Instagram
Like us on Facebook
We are featured on Houzz
Follow us on Google+
Susan
Carmel Decor